Recently I sat down with F.C. Dadson estimator Lance Kohl and Interior Designer Kayla Woldt to talk about trends in laminate for retail fixtures. What follows is a summary of key points that should be interesting to anyone designing or building a retail space: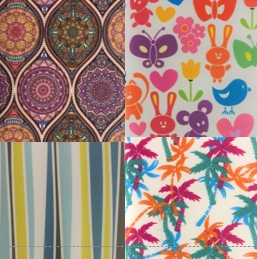 Me - So you guys know here at F.C. Dadson, we specialize in designing, manufacturing and installing retail store interiors. We use laminates to make many of our in-house products because they're both durable and cost-effective. What kind of trends do you guys see in the laminate market?
Lance – Currently, we're seeing a growing trend with compact laminates. It is available up to an inch thick and two-sided. It's water, scratch, and impact-resistant, so it's perfect for wall panels, lockers, restrooms, and high use areas.
Kayla - Metal laminates are popular too now. They're extremely durable, and they fit in well with the industrial look we're seeing a lot of.
Lance - High definition laminates offer greater visual depth with texture, and are also becoming more common.
Kayla - That's very true. They look so much more like wood or stone than the laminates we're used to seeing.
Lance - Kind of fits in with the reclaimed wood look, doesn't it?
Kayla - Yes definitely. And the cool thing about high definition laminates is that you can have the same pattern laminate, but there are a ton of different textures that could be used on it as well. That changes the look of the laminate completely. Just a lot more variety.
Also, in terms of colors, it looks like we're going back to the Seventies. Earth tones, succulent greens, and that kind of thing.
Me - Sounds a lot like the carpeting I grew up with!
Lance - Yes exactly, though you're giving away your age.
Anyway, you can tell from what our experts say that, although laminates are often chosen for their functional benefits, they follow fashion trends too.
If you or your company are interested in learning more about F.C. Dadson's design or manufacturing services, please don't hesitate to contact us.