I have soft hands. That was the first thing I learned. Our foreman Adam handed me a pair of gloves when I started, but no one else was wearing gloves, so I tried to work without them. After about half an hour, my fingers were covered with cuts, so I put the gloves on.
Recently we were lucky enough here at F.C. Dadson to get a very large order. It needed to be completed asap, so I and a few other office folks pitched in on the shop floor for a few weeks.
I worked on our edge-banding machine, helping Dave our operator. Dave set up each job and fed the pieces into the edge-bander, and I caught them, inspected and stacked them on carts for their voyage to the next production station.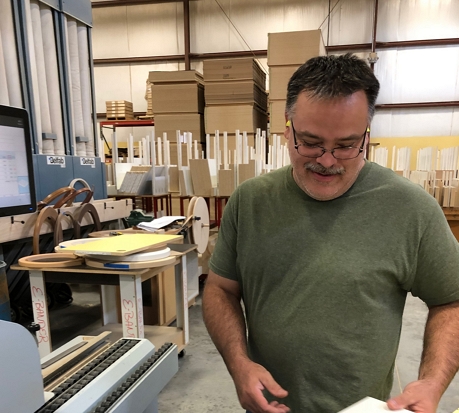 My part wasn't rocket science, but still I had to pay close attention. I quickly learned that because we are a custom shop, every job is unique. Just for the edge-bander, we have dozens of different edges of different colors and thicknesses. The complexity doesn't stop there. Any given piece may get one edge, or two, or three, or four. Or none. Each job gets personal attention because that's the way it has to be.
Luckily we also have efficient production systems. We've been making custom retail fixtures and millwork for over forty years, so we're pretty good at it. At any given time, we have custom orders from many different customers in process, but the shop floor is very organized. Every single piece of laminate we received at the edge-bander had a sticker that showed which edges needed bands, and what kind, and if we had any questions we could refer quickly to the shop drawings. Having all that information eliminates errors and re-work, and makes the operator more efficient.
Another thing I learned is that F.C. Dadson is truly a family company in every sense of the word. In addition to being family-founded and run, there are families working in our shop. Dave's brother Adam is our foreman, and both of Dave's sons work in the shop as well. People encourage their family members to work here because it's a good place to work.
I enjoyed my short stint on the floor. I will never be a craftsman like those folks, but the pride they take in making a quality product is inspiring. And if I'm ever asked again to help out, I'll be sure to bring gloves!