Store fixtures used to be designed to blend into the background. However, today retailers are putting fixture design front and center, hoping to create an impact. Below are a few ways to make a statement and get the most from your fixtures.
Fixtures as art.
Gone are the days of the utilitarian floor display and basic shelving unit. Why not get a little creative and make your fixtures a focal point? With so many materials to choose from, achieving a one-of-a-kind, attention-grabbing fixture is easy. Combine materials together to create a collage with merchandising capability. Incorporate unusual curves and angles into the design. Push the envelope and use unconventional materials for common elements (leather slatwall, anyone?). Even integrating a dramatic lighting effect can draw attention while highlighting the product.
Starved for inspiration? Take a cue from the architecture, other furniture pieces, and even the artwork found in your store. Tying elements from these things into your fixtures can help create an overall experience, as opposed to an environment full of random design thoughts.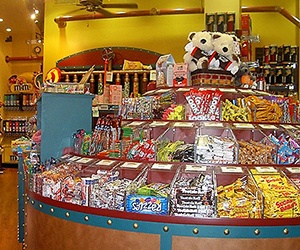 Fixtures as function.
Beyond looking good, store fixtures serve a purpose. From point-of-sale to merchandising and everything in between, you want to make sure your fixtures are performing to the max. Building in functional details is one way to keep your fixtures working for you. Work surfaces and storage areas can be stylishly incorporated or cleverly hidden in a fixture. Adding literature racks or interactive media screens to merchandising pieces allows consumers to not only your products but learn about them as well.
Fixtures as identity.
Store design should go beyond the trends and become an extension of your brand. What better way to support your brand than to integrate it into your store fixtures? It can be as obvious as adding your company logo or as subtle as incorporating your company's trademark colors. Some businesses are taking this idea one step further and actually designing fixtures that reflect the products they sell. It's now possible to find a bag of M&Ms displayed on a fixture designed to resemble an oversized M&M, eliminating any confusion as to what kind of candy-coated chocolates a shopper is purchasing.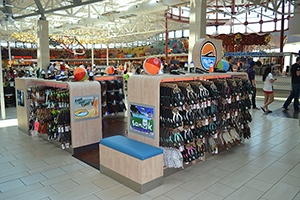 Fixtures as direction.
Traffic flow can be an ally to your sales team. If you can influence where a customer walks, you can also influence what she buys. Let the store fixture design lead customers to a new product, weekly special, or whatever you are looking to promote.
The ideas given in this article are just some that I have seen in the marketplace; there are definitely more possibilities out there. So decide what kind of impact you want to make and go for it. Isn't it time you start getting the most from your fixtures?